I've been wanting to look for information on Bear Grylls on the net for quite some time, but due to other things that interests me, I never get to it.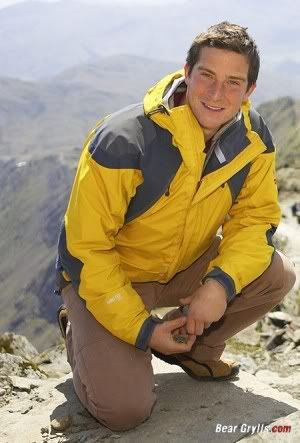 For those of you who doesn't know who he is, he is the man in front of the camera for the show Man VS. Wild. Besides being so damn hot,cute, sexy and any other praises appropriate for this amazing guy, he's also a daredevil adventurer who gets himself into the wilderness of an unknown place and then survive it on his own. That's hot. Although, sometimes, his survival 'ideas' gets me sick to my stomach. I don't know if I ever want to drink my own piss, eat a raw snake (HELP!!!!), eat worms or any other gross thing that he do to survive in the wild. Probably I will, if I have no other option.
What I like about the show is, Bear makes it possible to survive in an extreme situation. And it's also good to know what are the things you can do to survive if you ever lost in a wild. I know they are people around him but from what I read, they are NOT allowed to help him in any way and he's also the first British to ever climbed Mt.Everest at the age of 23 but there's a debate on that because some sources said, they have someone (unrecorded) that has climbed Mt.Everest before him.
Turned out, he has a blog!!! Hurrah ... so, I'm gonna list his blog into my blog roll and I think you guys should check it. I did came across few haters of him saying that he's fake. But who cares, I still adore him.
SO....PRESENTING BEAR GRYLLS

What is this for? I know, I know, in God Must Be Crazy, Nixau 'buried' the American because he was poisoned, so this is the way to neutralize the poison. Is it what this is for??