WARNING: Disturbing images in this entry. Readers discretion is advised.
I watched this documentary on Discovery Channel last night.
This documentary is about a bad case of warts that affects maybe a few people in this world. Warts are normally curable but left untreated it can cause a lot of damage to your skin and can become hindrance to your life and humiliating at some point. Warts are generally small and normally grows on hand and feet but can be at other locations too. It normally disappear after a few months if treated correctly.
But this Half Man Half Tree is a highly extreme case of warts where the warts started to grew roots resembling a tree branch or roots on his hands and feet. The warts grew 5cm each year on his hands and feet and welts are covering his body and face. It's so sad.
This is how warts left untreated look like: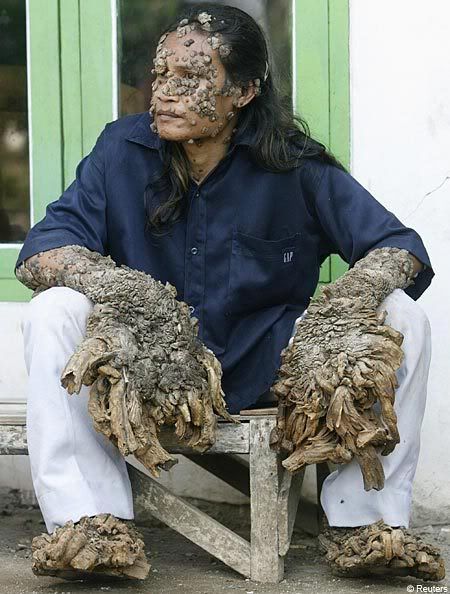 This is Dede, known locally as "The Tree Man" was a fisherman before he had this root like structures growing out of his body. Sad to say that, he is now working in a some sort of circus as a freak show in Indonesia to support his family because he cannot use his hand to work as a fisherman anymore. And the freak show organizer was proudly telling the DC crews that he was the one who made Dede and his other friends who have the same disease famous and clearly not feeling that them manipulating other people's suffering for money making is wrong. They justify their action by saying that they don't think what they are doing is wrong because they are giving them a job to do since nobody else is hiring them. Which is true in a way but still, I somehow feel that it's not right. Like, how much do they pay these people per show? Is it really enough to support the family back home?
A doctor from Maryland University Hospital was doing a research on Dede's disease and found out that Dede does not have immunity system or enough white blood cells to fight the disease and he has come up with a cure for him but he still need funding from organizations to support his research and the cost of surgery and medical treatment for Dede.
MORAL OF THE STORY:
If you see even the tiniest bit of warts on your body, seek treatment right away!